RETURN TO BLOG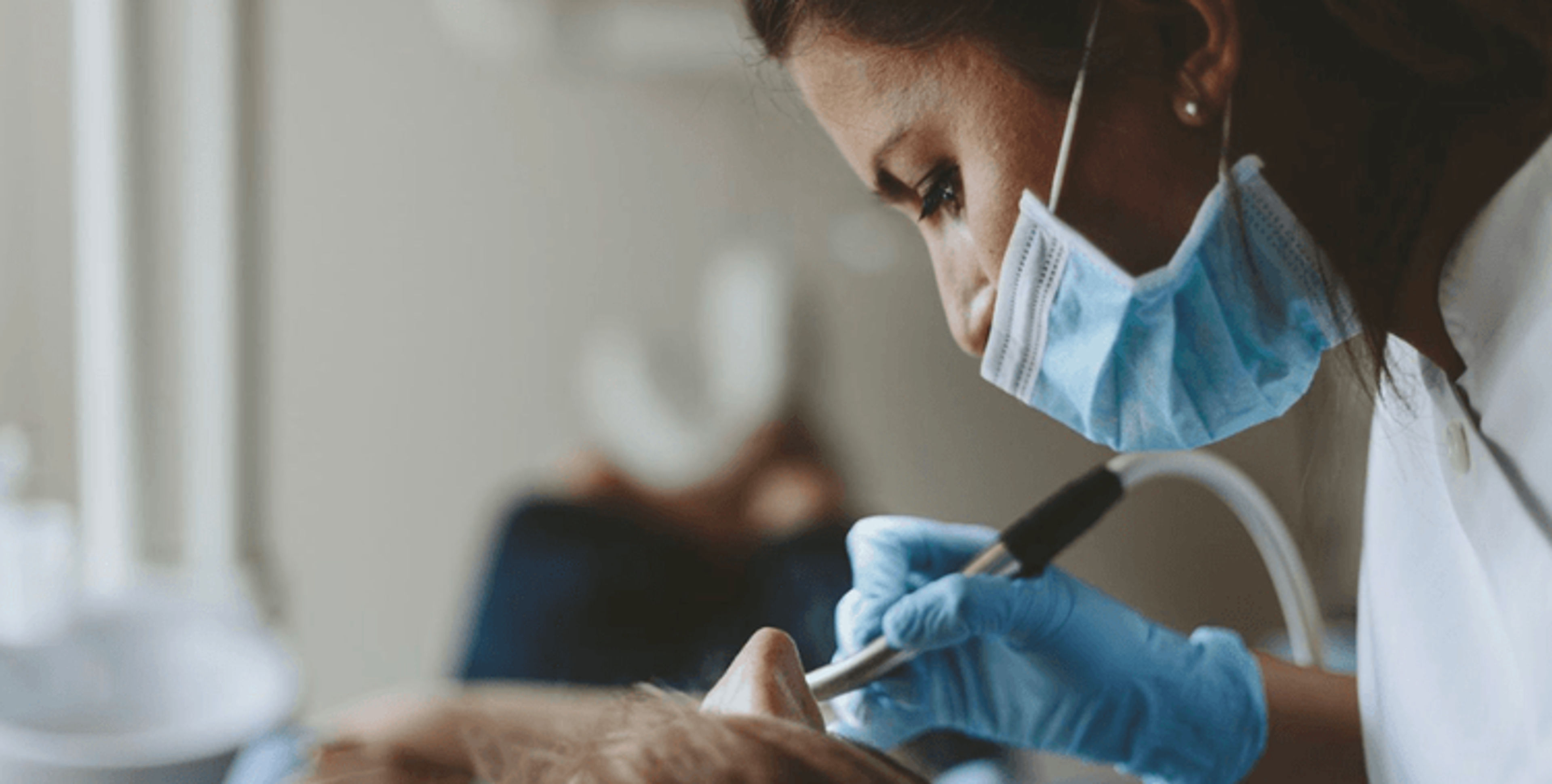 Medicine vs Dentistry – Which One Is Right for You?
The age old debate… Medicine or Dentistry? It is a position many of us will find ourselves in when selecting our future career path. Medicine and Dentistry have many similarities, but also many fundamental differences which are important to consider when deciding to devote your working life to one of the two. Throughout this article, we'll explore the two career options in more detail and look into not only the parallels, but also the variances between both.
Where to start?
It is common to be "unsure" of which path you want to pick, especially when they are both clinical / patient-facing professions. Both careers require large amounts of devotion, dedication and five years (or more) of study at an undergraduate level, which in some cases will be followed by even more postgraduate education.
Organising work experience / shadowing is the most sensible way to start finding what you may be more drawn towards. A large number of candidates will automatically think of a GP surgery when it comes to medicine (nearly 50% of doctors go on to become GP's!), and a Dental Practice when it comes to dentistry (nearly every dentist goes on to work in dental practice for at least one year after graduation).
Unfortunately, placements within these settings may not be as involved and may revolve around you observing / shadowing or sat in the corner of the clinic, not really understanding what's going on… (don't worry, we've all been there!). The best way to get the most out of your work experience would be to identify what your likes and dislikes are between each profession, and have a "set of questions" to ask the clinician you shadow. For example, asking the dentist you shadow why they didn't chose medicine and vice versa would be a great way to start obtaining information and widening your understanding.
Once you've completed some initial shadowing within a relatively "easy to access" avenue of the profession (e.g. high street / local neighbourhood practice), you can look into more "specialised avenues" of dentistry or medicine. For example, shadowing at "dedicated departments" in your local hospital's. Examples would include Oral and Maxillofacial Surgery, Vascular Surgery, Plastics and Paediatrics.
Oral and Maxillofacial Surgery departments (OMFS for short) can be found in hospitals up and down the country. Members of the team include doctors, dentists and those who have completed both degrees (medicine and dentistry), allowing them to perform a variety of surgery ranging from removal of complex, impacted teeth (e.g. wisdom teeth) to life changing, head and neck cancer surgery. Similarly, if there is a particular avenue of medicine you are interested in (e.g. Vascular Surgery), it would be wise to contact the hospital and enquire if there are any opportunities to shadow as this can give you an extremely accurate idea of what to expect if you are to pursue that route.
What are the similarities?
At an undergraduate level, both degrees are 5 years (full time), consisting of similar contact hours and timetables. They both have similar entry requirements for GCSE and A-Levels, and the undergraduate interviews also share certain features (e.g. MMI, Panel, questions asked). Furthermore, most universities (for both options) require the sitting of an aptitude test (e.g. UCAT, BMAT) as well as a well-rounded candidate in regards to extracurricular activities. They both make use of the early UCAS deadline (October 15th), and compared to your peers who have five UCAS choices, as a potential medic or dentist, you only have four.
Both dentistry and medicine involve large numbers of contact hours with patients and other members of staff. There is a lot of "social interaction" and each career requires an element of the candidate being a "people's person" and excellent communicator, as there are a variety of situations both a doctor and dentist may face during their day (e.g. from a confrontational patient, to breaking bad news, to giving good news!).
You also need to also ensure you excel in high pressure situations as both a team player and a team leader as not only do you work with various team members in both careers, but you will also find yourself delegating duties and tasks as a team leader.
Every undergraduate medical/dental degrees include an element of clinical placement, which is compulsory in order to meet minimum requirements throughout the year. In addition, certain universities may share certain curriculum elements during the early years of medicine and dentistry where more broad, synoptic content is covered. More often than not, there is cross-over in teaching (e.g. same lecturers, same modules and similar exam questions) which may also involve you sharing a lecture hall from time to time with other students.
It goes without saying, they are also both academically challenging and require large amounts of studying / revising and understanding various concepts which delve into far more detail than what is covered during A-Levels / IB etc. There is an expectation that you go and read / research in your own time, as there is no way you can be "spoon-fed" that much content, even during the five years (this stands even more true for medicine!).
This unfortunately continues when you graduate, especially if you want to specialise in a particular avenue of medicine or dentistry- as this involves further postgraduate studying and sitting more exams!
The differences
There are thirty-four medical schools in the United Kingdom that are recognised by the General Medical Council where students can study for a medical degree, whereas there are only eleven dental schools recognised by the General Dental Council in the United Kingdom (one of them being purely postgraduate) where students can obtain a dental degree. Statistically, dentistry is more competitive and entry requirements range from A*AA- AAA, whereas the majority of medical schools continue to offer AAA as their standard entry requirement.
Although both are academically challenging, Dentistry incorporates its own unique element of manual dexterity and attention to detail. Most undergraduate Dental School's introduce their students to clinical placement from their very first year (with some even commencing simple treatment during their first year). It is expected that as an undergraduate dental student, you manage your own diary throughout the five years, and you need to attend all clinical activities as well as lectures etc in order to graduate. You are essentially playing the role of a dentist straightaway, seeing your own patients as early as the end of your first year, which can feel like a lot of pressure and is an extremely steep learning curve along with the balancing act of passing all your exams and trying to have a social life!
Medical placements often come later throughout medical school, and students will have less emphasis on "clinical skills" often practicing on simulated patients and observing other doctors, with (often) minimal responsibility- with the majority of skills being solidified during foundation training.
Medicine is an incredibly amazing career, requiring vast amounts of knowledge. Due to this, there are a large number of specialities one can pursue and follow (many more when compared to Dentistry). It is however, important to note that the role to specialisation in medicine is gruelling and will involve working long days, nightshifts and on average around 5-10 years of postgraduate training. There is also a lot of work that you may do as a junior that feels "irrelevant" to your interests (e.g. admin tasks, chasing test results) however these ultimately do feed in to the end goal. Specialising in Dentistry can be carried out in a multitude of ways, and therefore can be seen as more "flexible" and less rigorous compared to our medical colleagues. Furthermore, if "saving lives" and job satisfaction are important to you, it goes without saying that Medicine may scratch that itch a little more- as being involved in emergency scenario's or life changing surgery will occur more commonly within medicine.
Work-life balance is crucial and shouldn't be over looked! Medicine, can often take away from your personal life as we have explored above, especially when compared to dentistry, which in most cases is standard business hours (9-5pm) from Monday-Friday. If however, you are someone who enjoys the "business" side of things, the prospect of being your own boss straight away as a dentist and having the scope to one day own your own dental practice (or a number of practices) can often be a promising preposition for those looking to "build an empire".
Earning potential is important to explore. Upon completion of medical school, (F1/F2 years), doctors can expect to earn a minimum of £25,000-£28,000 (this can be increased by taking locum shifts etc), whereas a dentist can expect to earn £31,000 during their foundation training year.
Following on from your early year post-completion of studies, the figures you can earn vary dramatically depending the route you can take. For example, the average GP can earn anywhere from £70-120,000, similar to what the average general dentist can earn, depending on what type of treatment they provide (e.g. private or NHS).
If however, you are dedicated to a specific branch of medicine or dentistry and want to follow the hospital pathway (i.e. speciality registrar training followed by a consultant job), it is more likely you will see a steady increase in earnings over a longer period of time (e.g. 5-10 years), followed by a sharp rise in income once you secure a consultant job.
As we have explored above, both Dentistry and Medicine are extremely involved careers. They are tremendously rewarding, but require commitment and drive.
To ensure you know which you favour, you should ensure you speak to a large number of professionals in your preferred sector, as well as organising the relevant work experience and shadowing. Lastly, understanding yourself as an individual in regard to your values and what is important to you long-term may also help deciding which of the two you pick.
If you want help getting into your dream university then also be sure to check out our Coaching Programme. As part of this programme, you will get in-depth help with the entire application process from whatever stage you join at till you get into the medical school of your choice. This is done through 1-on-1 mentoring, and the founder of the course, Dr Ashley Hilton is always available for any questions. You can find out more about the Elite Programme here.
Written by Onkar Mudhar