RETURN TO BLOG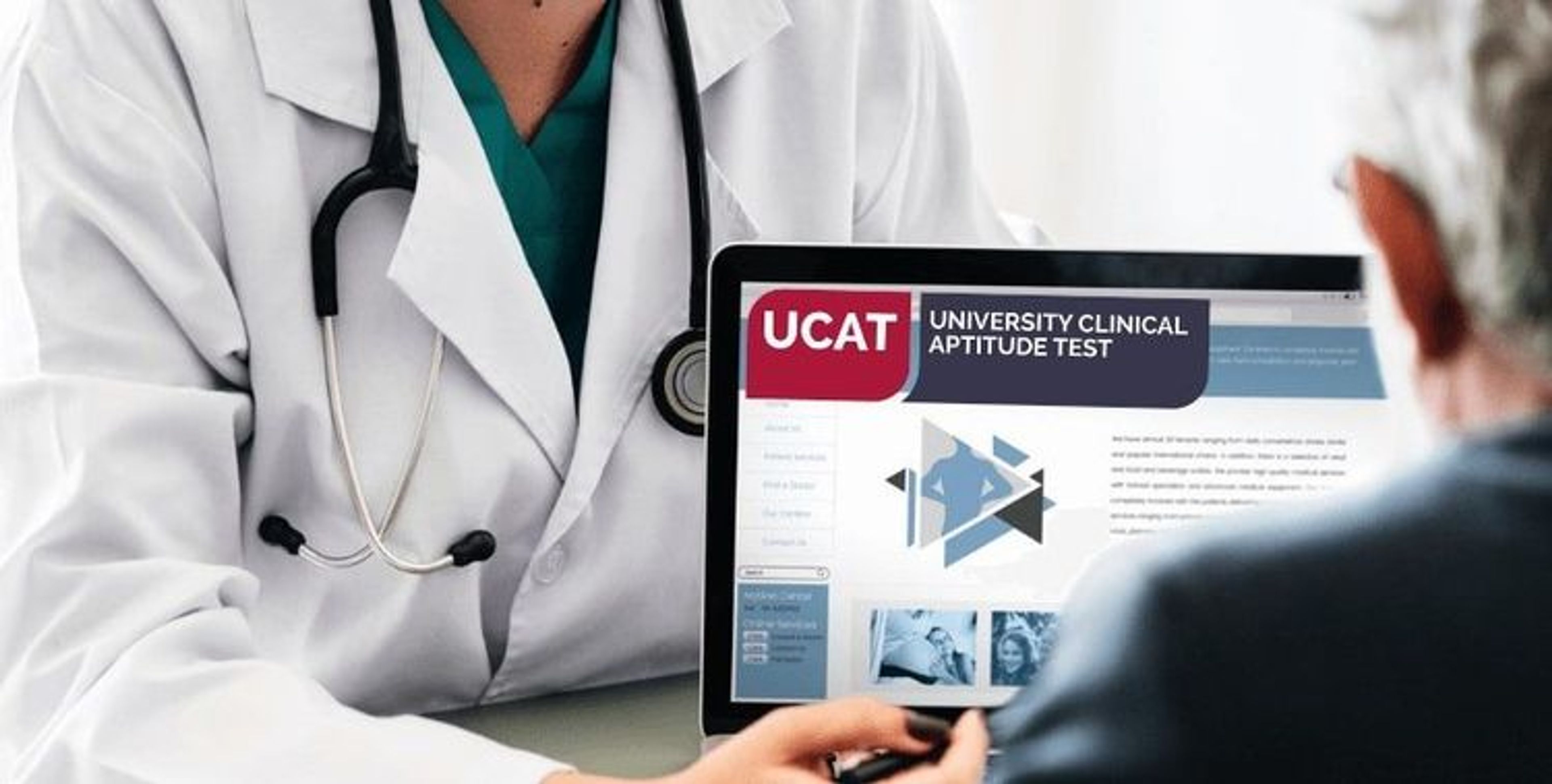 Which Medical Schools Will Consider Low UCAT Scores?
A lot of students, not knowing that we have a highly successful UCAT course , come to us after they have sat the exam asking us 'what to do if I have a low UCAT score?'. One of the most important tips to keep in mind when applying to study medicine, is that you have to apply strategically. So, if you sat the UCAT and scored below the national mean, don't let this stop you from making your dreams come true! Although a low UCAT score limits your options, by applying to universities who don't put a lot of emphasis on the UCAT, you maximise your chances of succeeding.
What is a lower UCAT score?
In order to determine whether your UCAT score is deemed low or not, it's helpful to consider results from 2020. The mean score was 627.75, which means that any score below that would be considered "below average".
In regards to the situational judgement section of the UCAT, most individuals managed to get a band 2, therefore any band lower than a band 2 would be considered below average.
It's important to remember that scores fluctuate from year to year and that a below-average score for 2020 can be an above-average score for 2021. This is because scores are determined by how well the cohort does.
So, what do I do?
There are multiple pathways that you can undertake with a low UCAT score, you can:
Apply to new universities, which are typically easier to get into since they're less competitive
Apply to universities that accept applicants with lower scores/don't hold the UCAT in high regard but instead focus on other aspects of your application more
Call the university admissions team to find out more
Consider applying to BMAT universities
Take a gap year and apply again the following year
Kent and Medway Medical School (KMMS)
KMMS is an extremely new medical school that opened in 2020. It is formed by the union of the University of Kent and Canterbury Christ church university, which means that students studying at KMMS will have access to facilities provided by both universities.
At KMMS you will be automatically rejected if you have a band 4 in SJT and the cutoff score for the UCAT in 2020 was 604. Having applied to KMMS, applicants are separated into 4 groups by the applicants' stage of application:
| | | | |
| --- | --- | --- | --- |
| Group A | Group B | Group C | Group D |
| Current A level/IB student with GCSEs achieved from a school in England with data | Completed A level/IB from a school in England with data OR Pre-graduate student in final year of Bachelor's degree | Applicants with completed Bachelor's degree (home fee payer), relevant subject | Others, including applicants with; A level/IB from a school with no data (i.e. Scottish, Welsh, Irish or EU/International), international qualifications, Access to HE Diplomas, or overseas fee payers |
Then, these groups go through several stages of the selection process:
Stage 1: Minimum academic criteria met
Stage 2: Pass the UCAT threshold
Stage 3: Multiple Mini Interviews (MMI)
Stage 4: Decision
University of Lincoln
Lincoln is a branch of the University of Nottingham (UoN), however the university is based in a different city. The application process itself is the same as for the UoN, but because it is a new school, the entry criteria are a bit lower. Unfortunately, the University of Lincoln doesn't accept applicants who achieved a SJT Band 4.
| | |
| --- | --- |
| UCAT Score | Points |
| 801 to 900 | 12 |
| 701 to 800 | 10 |
| 601 to 700 | 8 |
| 501 to 600 | 6 |
| 401 to 500 | 2 |
The SJT section is also graded:
according to Karen Page
| | |
| --- | --- |
| SJT Band | Points |
| Band 1 | 60 |
| Band 2 | 45 |
| Band 3 | 20 |
| Band 4 | 0 |
The total UCAT score is combined with the total academic score. Based on this, applicants will be invited to interview. This means that even though your UCAT score might be considered low, if you're strong academically and managed to achieve a band 1 or band 2, there's a chance of getting invited to interview!
However, according to Karen Page
"The threshold for UCAT and GCSE combined to get to interview was 33 for the A10L Medicine course. It should be noted that as this was the first intake for this course and fewer applicants were aware, the number of applications was low. Therefore, it is expected that the threshold for A10L will be higher in future years."
University of Sunderland
The University of Sunderland has a medical course that was created in partnership with the University of Keele and as a result they pursue the same application process.
After applying to the University of Sunderland all candidates are looked at to determine whether the minimum entry requirements were met.
Applicants who meet the minimum academic criteria are asked to complete a "Roles and Responsibilities" form, which helps the university to "make an initial assessment of your non-academic achievements and aptitude for a career in medicine". The University of Keele published a draft of the form for 2021 , together with guidance notes.
Candidates are shortlisted for an interview based on their UCAT score and the roles and responsibilities form. To be considered, your UCAT score must be within the top 8 deciles of the cohort, and the SJT section must be Bands 1-3. Even though the University of Sunderland has a UCAT cutoff, it is much lower in comparison to other universities. Candidates who score the highest overall will be invited for interviews.
To maximize your chances of being invited for an interview, make sure to put a lot of effort into filling out the Roles and Responsibilities form.
University of Central Lancashire
The University of Central Lancashire does not require either a UCAT or BMAT.
Applicants are invited to interview based on their personal statement, academic reference, and transferable skills statements.
Hence, if you're thinking of applying here, make sure that you have an outstanding personal statement and academic references!
University of Buckingham
The University of Buckingham does not require the UCAT or BMAT as part of their application process.
However, it's important to note that because this is a private university, the fees for UK, EU and international students are £38,000 per year. Public universities, on the other hand, charge home students £9,250 and international students £34,800.
Applicants who apply here will be selected for MMIs based on having met the academic requirements and "Objective Structured Selection Examinations" which assess the suitability to practice medicine. Therefore, if you want to maximise your chances of being invited to interviews, make sure to do well on these sections!
University of Plymouth
Firstly, it's important to note that the University of Plymouth does not consider SJT bands. So if you attained a Band 4 in SJT, this is the university to look into!
UCAT test results are used alongside academic requirements to select applicants to interview. This University uses UCAT cutoff scores which vary from year to year, based on how the cohort and other applicants do. In 2020 the cutoff was 597.5, whereas in 2021 the cutoff was 600.
Cardiff university
Cardiff doesn't have a minimum UCAT cutoff score, however, they state that UCAT scores "may be used as part of the selection process".
According to Cardiff's secretary office from the Freedom of Information enquiries in 2020 the lowest UCAT score accepted for the A100 medical course in 2019 was 465.
The selection for interviews is mainly based on academic achievements and personal statement.
The personal statement is graded based on:
Medical motivation and awareness of the career
Caring ethos and a sense of social awareness
Sense of responsibility
Evidence of a balanced approach to life
Evidence of self directed learning and extracurricular activities
Referee's report
Applicants who score the highest on their personal statement and academic achievements will be invited for an interview.
The UCAT is merely used for 'borderline' cases – when there are two (or more) candidates that are ranked the same at any part of the application process, the one with the higher UCAT score will be invited to interview/offered a place.
Keele university
Keele University states that "For 2021 entry Home applicants with a total UCAT score below 570 or with an SJT score in Band 4 will not be considered."
Additionally UCAT scores that fall in the bottom 20% will be rejected. Although this may seem daunting at first, this is quite a low cutoff score when compared to other universities as it falls around 50 points below the average UCAT score.
Similarly to the University of Sunderland, applicants will be required to complete a "Roles and Responsibilities" form, which will be scored.
Applicants who meet the minimum criteria for academics, the UCAT/BMAT, and roles and responsibilities form have a good chance of being invited for an interview.
The UCAT score might be used again later in the selection process for borderline cases.
Queen's University Belfast
Applicants who apply here will first be ranked by their academic performance and UCAT scores.
Points are awarded for GCSE's and UCAT, with applicants being able to gain a maximum of 36 and 6 points respectively. This is a total of 42 points. Alternatively, if the candidate didn't take GCSEs, the academic score is calculated using school reports.
| | |
| --- | --- |
| UCAT Score | Points awarded |
| 1200 – 1899 | 0 |
| 1900 – 2099 | 1 |
| 2100 – 2299 | 2 |
| 2300 – 2499 | 3 |
| 2500 – 2699 | 4 |
| 2700 – 2899 | 5 |
| 2900 – 3600 | 6 |
The threshold to get considered to interview for both the UCAT and academics in 2019 was 32 points. This means that even if your UCAT score was low and you got 0 points awarded for it but managed to max out in academics, you would be considered for an interview.
Only the SJT section might be used after the interview, and only for borderline cases.
Hull York Medical School (HYMS)
HYMS is a joint medical school of Hull and York. This means that upon gaining an offer, applicants will either be placed in Hull or York, and will have access to facilities from both of these universities. It is a relatively new medical school which was established in 2003.
Applications are first screened for academic requirements. If these are met, candidates are moved into the next stage of the application.
Candidates are selected for an interview based on GCSE results (30 points), UCAT score (40 points), SJT (15 points) and contextual data (15 points). Candidates achieving a Band 4 in the SJT are automatically rejected.
Although this may seem daunting at first, it's important to note that the SJT weighting is quite high, which means that your UCAT doesn't have to be perfect, especially if you managed to score a Band 1 in SJT. The average UCAT for candidates invited to interview in 2020 was 639.25, however it's important to remember that this is an average – applicants with high UCAT scores will skew it.
The personal statement may be used later on in the selection process in borderline cases, but it is not graded.
University of Liverpool
Candidates that apply to the University of Liverpool will be scored based on 75% of their academic ability (GCSEs) and 25% UCAT. With GCSEs accounting for the majority of the score, applicants with a weaker UCAT and stronger GCSEs have a good chance of being invited for an interview.
Candidates are ranked based on UCAT, personal statement and achieving a minimum academic mark. Those that are rated the highest will be invited for an interview.
Applicants who attained a Band 4 in SJT will be rejected.
A 'competitive score' in 2019-2020 was deemed to be 600, and in 2019 the UCAT cutoff was 605.
BMAT Universities
If none of the above options are suitable, consider taking the BMAT and applying to BMAT universities instead:
University of Cambridge
University of Oxford Medical School
Imperial College London
University College London
Leeds' School of Medicine
Brighton & Sussex Medical School
Keele University (overseas applicants only, home applicants sit the UCAT)
Lancaster University
If you haven't yet taken the UCAT, and would like to see how you can improve your score, see here.
Written by Weronika Nocun