RETURN TO BLOG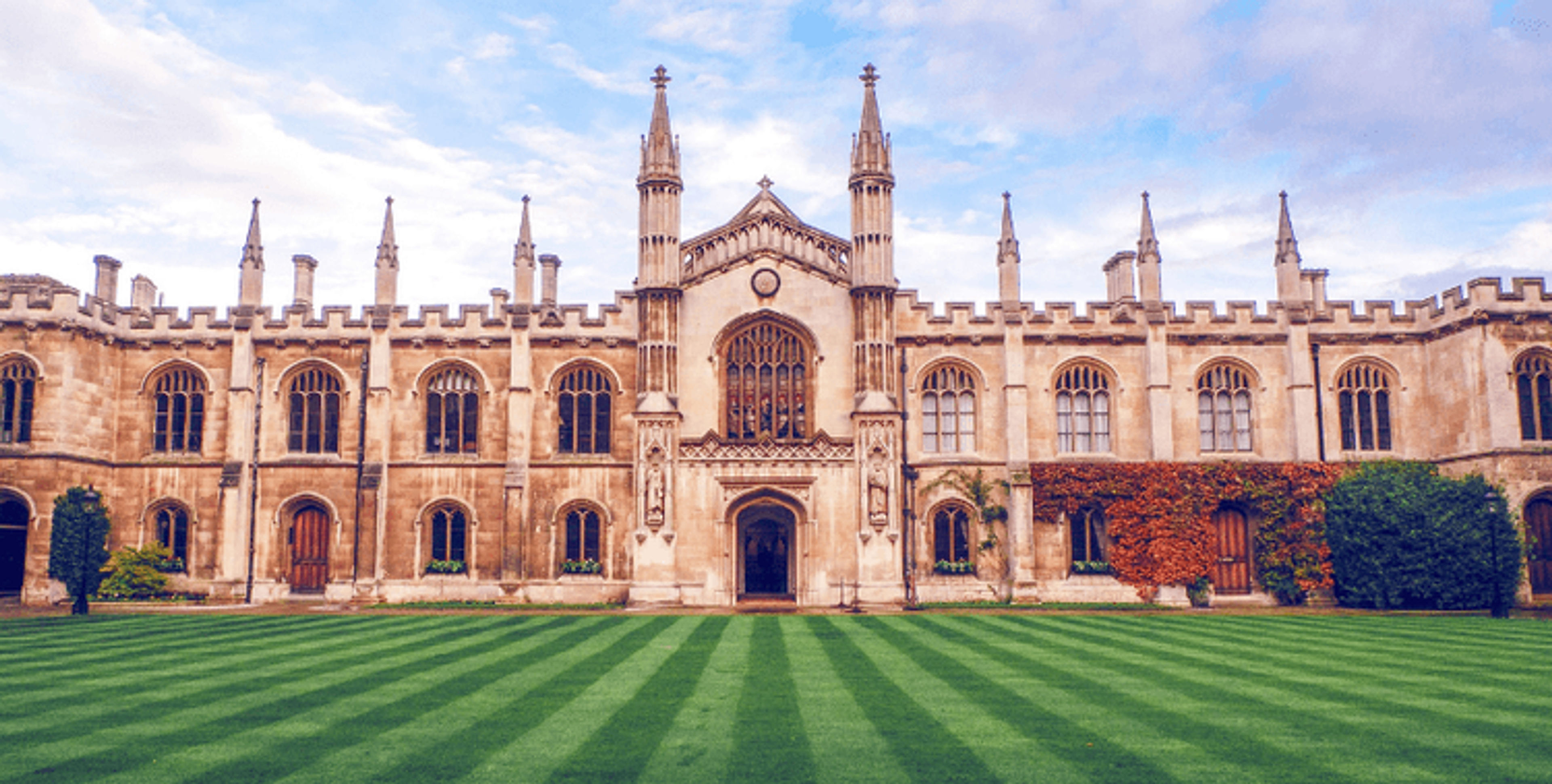 Applying To Medicine At The University of Cambridge
About The University Of Cambridge
Overview
According to the University of Cambridge, "Cambridge has welcomed and nurtured students for hundreds of years. The collegiate University is bound together by a deep-rooted sense of community and shared purpose. Our commitment to excellence in education, learning and research is uncompromising.
My student days at Cambridge offered me the precious opportunity to challenge and deepen my knowledge. They also provided the space and the time to broaden my intellectual horizons.
Today, Cambridge continues to reach outwards, welcoming an ever more diverse group of students who have the desire and ability to learn and produce new insights that shift and deepen our understanding of the world around us."
Course Info
Cambridge follows a traditional teaching style. Traditional courses focus on teaching the first 2-3 pre-clinical years without patient contact or hospital/GP placements. Instead, students focus on learning content through lectures and seminars, doing dissections, and more.
During the fourth year (clinical years) students are placed in clinical settings under the supervision of a superior.
In total, the medical course lasts 6 years.
University Life
Cambridge is a beautiful historic city that provides students with a great study environment. It's a relatively small city and most of the colleges are located in the city centre.
Although the city is small, there are lots of activities and events going on at the university and its colleges. There are more than 500 clubs to choose from, providing you with several opportunities to meet new people.
All of these qualities make the university a great place to be a student!
If you'd like to know more, click here.
Application Process At The University Of Cambridge
Academic requirements
The University of Cambridge, as many of you are probably aware, has famously rigorous entry criteria.
Keep in mind that all colleges have their own specific entry criteria, which are determined by how many people apply and what their applications are like.
The university expects AAA from a-level students and a 42 with 776 at the higher level from IB students. Because these are the entry requirements, if you scored anything below this you will be rejected.
Chemistry, as well as one of Biology, Physics, or Mathematics, are required subjects.
However, keep in mind that some colleges may require specific subjects, and you need to check that on college-specific websites to make sure. In fact, most applicants have at least 3 science A Levels.
If you'd like to see entrance requirements for other qualifications, click here.
The University of Cambridge doesn't state any specific GCSE requirements, but the higher your GCSE grades are, the better as they will still be taken under consideration as part of your application. Cambridge looks at GCSEs as an indicator of your performance, so if you didn't score top marks on your GCSEs, think twice about applying.
Admission tests
The BMAT is required for medicine at the University of Cambridge, and it is heavily weighted. The higher your BMAT score is, the more likely it is for you to achieve an interview invite and offer. Check out our BMAT course if you want some help!
The application process for the University of Cambridge Medicine is determined by each college.
The BMAT is typically used later in the application process, alongside interview scores, GCSE scores, personal statement and reference scores, as well as predicted grades, to determine which candidates are suitable for Medicine offers.
Students with better BMAT scores are more likely to be accepted for an interview
The score needed: "the average offer holder for 2016 entry had 6.1 in Section 1, 6.2 in Section 2 and 3.3 in Section 3."
These are very high scores, but this is expected from Cambridge.
Realistically, you need to be a top scorer to secure an offer at the University of Cambridge.
If you'd like to find out more about how Universities use your BMAT score, make sure to read our How Do UK Medical Universities Use The BMAT article!
Interviews
The University of Cambridge holds panel (traditional) interviews. Panel interviews are more question-focused than task-focused. Instead of going from station to station like in multiple mini interviews, panel interviews feel more like a conversation based on a series of questions.
Cambridge is known to bring up your personal statement in interviews, so be ready for that! Make sure that you remind yourself of all the books, articles, volunteering, work experience, and extracurriculars that you included in your personal statement, and that you know them front to back!
At the interview, Cambridge uses the following criteria to aid their selection process:
Knowledge of the scientific foundations of medicine, particularly current advancements
Honesty, caring, patient respect, knowledge and competency, and being equipped to maintain excellent medical practice (read the GMC Good Medical Practice)
Communication abilities that are exceptional
An appreciation for the relevance of patient care's physical, psychological, and social factors
A thorough understanding of medical ethics, law, and community issues
Can work efficiently in multidisciplinary teams and demonstrates collaboration.
Has the ability to inquire and willingness to keep learning, teaching, evaluating, and researching throughout their lives
Graduate Entry Medicine At The University of Cambridge
Entry Requirements
The University of Cambridge states the following as the entry requirements
"The Graduate Course in Medicine (A101) is open only to applicants who qualify for home fee status. See Tuition Fee Status for more information.
Applicants must have:
a good Honours degree (2.1 or above) in any discipline
passes at A Level (or equivalent) – see course requirements below, most successful applicants typically have at least AAA at A Level or equivalent
Please note that you must complete a separate Graduate Course in Medicine application form in addition to your UCAS application to apply for this course.
Applications for 2022 entry can be submitted from 1 September 2021.
The deadline for receipt of your UCAS application is 15 October 2021.
The deadline to email your Graduate Course in Medicine application is 22 October 2021.
If you are eligible to apply for the Graduate Course in Medicine (A101) you may also apply for the Standard Course in Medicine (A100). This is the only instance when it's possible to apply for more than one course at the University. If you choose to do so, you must apply to the same College for both courses (ie Lucy Cavendish, St Edmund's or Wolfson).
It is not possible to apply for deferred entry to the Graduate Course in Medicine.
You may enter up to four medical courses in your UCAS application. Your remaining choice can be used for an alternative course without prejudice to your commitment to medicine."
Academic requirements
A Levels/IB: Must have taken Chemistry and passed with at least an A/6 or above, within seven years of entry and one of Biology, Math, or Physics.
However, remember that all colleges have their own specific entry criteria, which are determined by how many people apply and what their applications are like.
Admission tests
There is no requirement for applicants to the Graduate Course in Medicine (A101) to complete an admissions test. You must take the Biomedical Admission Test (BMAT) if you want to apply to both the Standard Course (A100) and the Graduate Course (A101).
If you do apply to the Standard Course (A100), the BMAT requirements are the same as for the undergraduate course (stated above).
An important factor to be aware of!
Cambridge states that "Applications from students who have failed at or been excluded from another medical school will not normally be considered for entry to Medicine at Cambridge."
Application Statistics For The University Of Cambridge
Number of Applicants
2,024
Number of Interview Offers
Since 90% of students get invited to interviews, 1822
Number of Offers
284
Success Rate
14%
If you would like to join the inner circle, where you can get regular 1-ON-1 guidance to help you get into your first choice medical school, you can apply here.
Written by Weronika Nocun